Park Home Extensions
Have you thought about increasing space and security to your park home?
Superior HomePark home extension Developments can build you additional space with the addition of a porch or extension. Timber framed constructions with a tiled roof will blend seamlessly with the rest of your home adding value and convenience. Individually designed and built to your specification our porches and extensions are a cost effective way of increasing your living space. All of our work from conception to completion is of a superior standard and at a competitive price.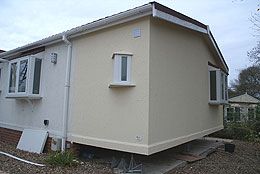 To speak to one of our friendly and courteous team use the phone number above and you'll be connected for free. Fill in our form on the Contact Us page and we will reply as soon as possible if you have a general enquiry. We look forward to hearing from you.