Park Home Improvements Company Based in the Midlands
Park Home Refurbishments in the UK
Superior Home Developments ltd are a park home refurbishment company, based in the Midlands, carrying out home improvements across the UK. Directly employing skilled tradesmen allows the company to undertake a full range of refurbishments to the interior and exterior of park homes. Managing Director, Dave Brown, said "Park homes are unique and need experienced, specialist people to work on them. Our staff work exclusively on park homes, which has allowed them to build up an extensive knowledge base and excellent problem solving skills.
No two jobs are ever the same so before starting a job, Superior Home Developments will arrange to meet the home owner on site to survey the home, discuss requirements and agree solutions. A full written quote clearly confirms the agreed work and time scales involved. Each job is led by an experienced team leader who manages each project and acts as day to day liaison with customers to ensure all work is carried out to the complete satisfaction of the home owner.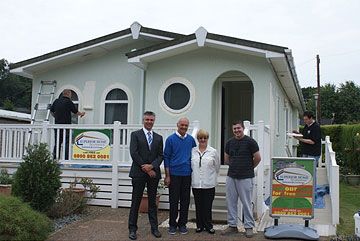 Superior Home Developments are able to undertake a full range of work from minor repairs to major refurbishments and everything in between. Dave said "We work on all park homes old and new, whether it be a new extension, porch, roof, windows, doors or re-cladding, we have the solution to suit your requirements. We do lots of work on older properties to bring them up to date, but also work on new properties that home owners want to improve.
You can rest assured that we only use industry leading products in our refurbishments, all our work is guaranteed and our staff are fully insured.
Call Us for Free!
To speak to one of our friendly and courteous team use the phone number above and you'll be connected for free. Fill in our form on the Contact Us page and we will reply as soon as possible if you have a general enquiry. We look forward to hearing from you.